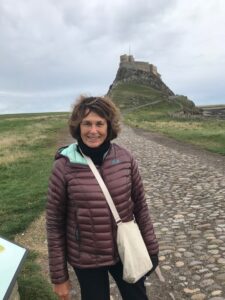 My September visit to Scotland was an unbelievable escape from the dreary world of Covid.  I cannot wait to take you there, too. The drive across the rolling green pastures of the Border country on a sparkling autumn day was mind-blowingly beautiful.  The weather was perfect and we traveled at an easy speed on empty roads.  Gentle autumn colours on the lush hills as the trees slowly start to change the shades of their leaves from velvety dark greens to red and gold. Rolling countryside of patterned fields and sweet Scots farms to dramatic hills. 
We rounded one corner as we entered a little town and were surprised by the ruins of an ancient abbey.  The town of Jedburgh.  More history than town!!! with its Abbey, castle and jail.  Such a pretty, compact town of lovely old houses. While stopped, we took advantage of a local cafe to have the most delicious lunch before we explored the town. 
We headed for the pretty town of Melrose.  The Burts Hotel offered us a warm and friendly welcome, comfortable rooms and delicious food.  You will enjoy exploring this tiny town with its varied shops, restaurants, Abbey ruins and inspiring gardens.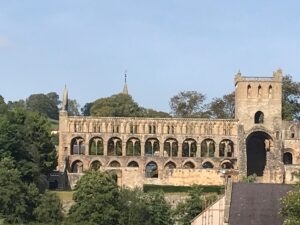 The town is famously the instigator of the 7 asides rugby football games. 
One of my favourite gardens in Scotland is that of Abbotsford, the home of Walter Scott.  Not only the fascinating castle but its garden has glorious colourful borders that brighten the whole area.  We will follow the old Pilgrim route from Melrose to Holy Island in Northumberland taking in the dramatic skeletal structures of some amazing Abbeys as we pass.  I suppose that the monks were gardeners too because we stop at some lovely gardens on our way.
Not to be outdone, I know that you will enjoy visiting the Stately homes of this area. Floors Castle is a jewel with its impressive collection of art and its impressive walled gardens, especially the kitchen garden.  Furthur east we reach Bamburgh Castle and the gardens of Lindisfarne on Holy Island.  Lutyens and Gertrude Jekyll worked their art in house and garden at this dramatic spot.
So much to show you in this less well-known part of the world.  No doubt we will reach a high note when we visit Alnwick castle.  This castle has been lived in by the powerful Percy family, Dukes of Northumberland for a thousand years.  Alnwick was used for the setting of the Harry Potter films.  For us its supreme focus is its garden.  The garden is a work of art created by the present Duchess.  Even as the archeological work was undertaken before work started on this garden, the remains of six gardens were discovered underneath!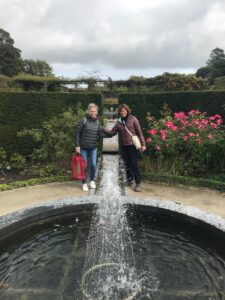 This is one of the most spectacular and contemporary gardens of our time.  I cannot wait to share it with you. 
This will be a tour of unknown surprises worthy of your many and varied interests.
Remember that the world out there has so much to offer.   I am ready to brighten yours as soon as we can travel again! 
Andria